Mad and I headed out to Okotoks a few weeks ago..Its an adorable little town about 15 minutes away from us and when we need to escape the city, but only have an afternoon..thats where we go. O, and if any of our 3 furr kids needs to go to the vet, we go there too...In anycase, we found this lil glass table there on the side of the road and I swooped it up before the garbage man did...People! Stop doing that!! Donate it fer crying out loud!
K, so I cant find my
before
picture anywhere..but in short..it was an ugly brass in a bamboo-ish pattern
I got it home...cleaned it and spray painted it in teal, did a stamp design all around everywhere in old white and etched another design pattern on the glass top...easy.
I decided that tis the season to pay things forward...to help others, care for others..and put
real
priority back in life. Since Im so blessed to have a home, have my family and friends, have food and clothes...Im also blessed enough to not
have
to sell this piece, so I was planning to donate it. Either Habitat for Humanity or The Salvation Army. Its what the curb tosser should have done in the first place.... Then when I was reading Cassie's blog over at
Primitive and Proper,
I found out she was participating in an effort of the same idea (donating a furniture piece to a charity)...Great minds eh? She, however had a fancy blog button for the occation. Im posting it too because
I like it, Im doing it
and it kinda gives this cause a bit more
Ooomph
-factor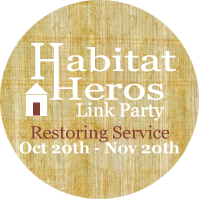 Pay something forward people.....Tis the Season and your so blessed in life.
Remember, there is always always always something to be thankful for!